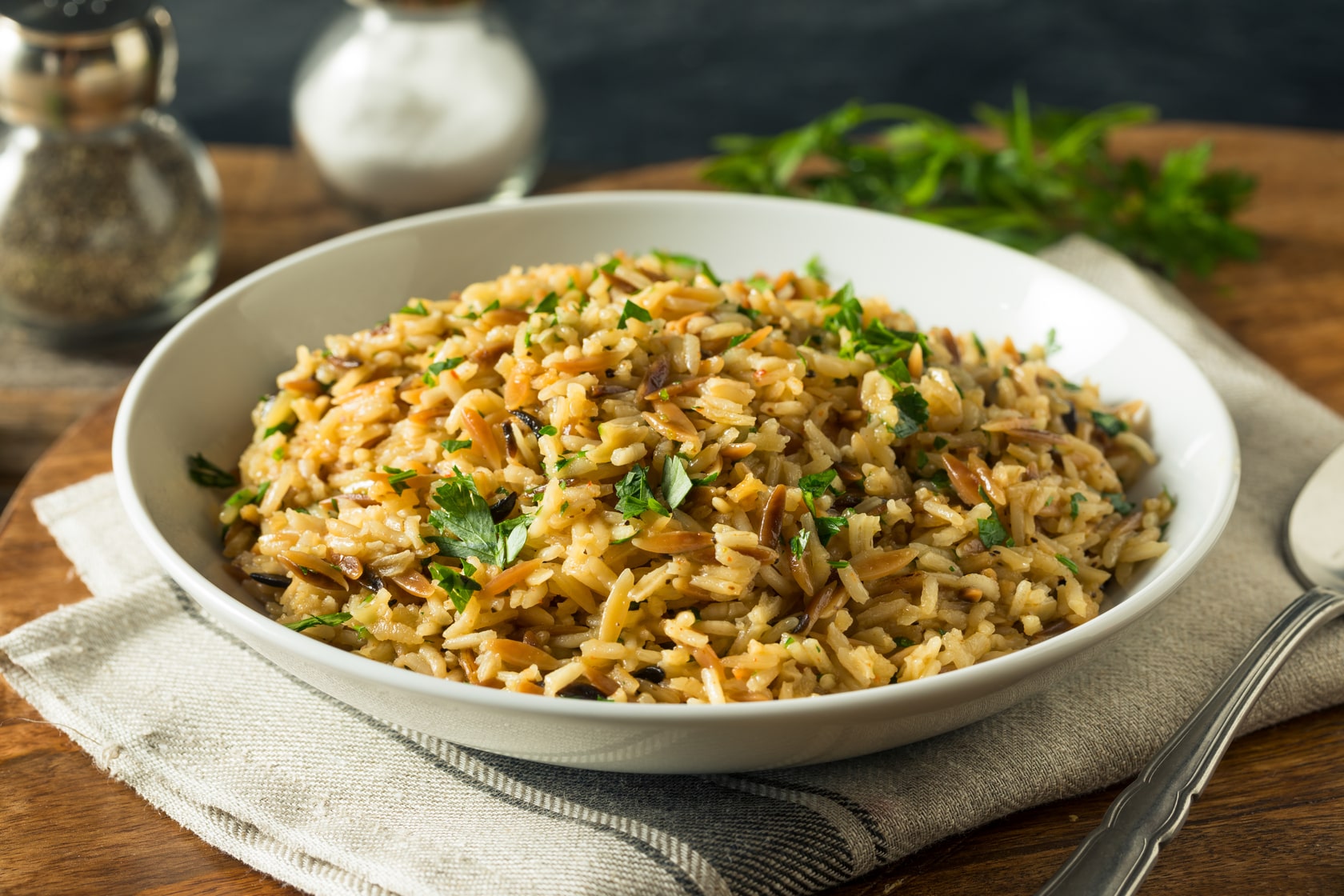 Balkan Chicken Rice Pilaf: How To Make It
28 Mar, 2023
Posted By : BalkanFresh
---
This is a simple yet flavorful rice dish suitable as a side or main dish. While the recipe for Balkan rice pilaf can differ slightly from one region to another, the fundamental ingredients remain consistent. Additionally, these include rice, spices, and either chicken or vegetable broth.
This blog post will guide you through the steps to make a delicious and authentic Balkan rice pilaf that will leave your taste buds satisfied. 
What is rice pilaf?
Balkan rice pilaf is a classic rice dish known throughout all the Balkan regions. You can serve it with meat, such as: 
You can also enjoy it alone as a vegetarian meal. 
The dish typically features fluffy, Levidia rice that's cooked in chicken or vegetable broth, giving it a savory and satisfying flavor. You often mix the rice with sautéed onions and season it with simple yet flavorful ingredients, such as garlic, salt, pepper, and a Balkanic spice known as Vegeta.
Chicken Rice Pilaf Recipe
Its light, fluffy texture makes this recipe irresistible. And the best part? The flavors are wonderfully simple, making it a fantastic complement to any main dish. Lastly, it's the perfect side dish that will leave everyone asking for seconds.
Ingredients
Prepare 6 chicken drumsticks, thighs, or a combination of both.

3 tablespoons of vegetable oil in a baking pan.

1.5 cups of white, round-grain Levidia rice.

1-2 tablespoons of chicken stock powder or Vegeta.

Salt and pepper to taste. 

Chicken broth or water.
Directions 
Step one: Prepare the marinade in a small bowl. Simply combine some oil with the seasonings and whisk them together. Further, take your chicken pieces and coat them evenly with the marinade. Let them rest for anywhere between 5 to 30 minutes. Store the chicken in the fridge.
Heat your oven to 480°F/ 250°C before you begin cooking. Once the pan is prepared, place your chicken drumsticks and thighs inside, along with the remaining marinade. This will help to enhance the chicken with even more flavor. Bake for 15 minutes.
Step two: Now it's time to continue cooking the chicken. After the first 15 minutes in the oven, take the pan out and flip the chicken pieces around. This will help to make sure that they cook evenly on both sides. Reheat the pan at 360°F/180°C and bake everything for another 15 minutes, until the chicken is fully cooked.
Step three: Add the Levidia rice and pour 4.5 cups of water or chicken broth over to cook it properly. Stir everything together once you've added the rice and liquid. Bake the rice for about 25 minutes at 400-420°F/ 200°-210°C. After that, the pan should have about a quarter inch of water left. This is a good indication that the rice is almost ready. At this point, add the chicken to the pan again. This will allow it to absorb any remaining moisture and flavors from the rice. Finally, leave it in the oven for a bit longer, if you like the rice dry.