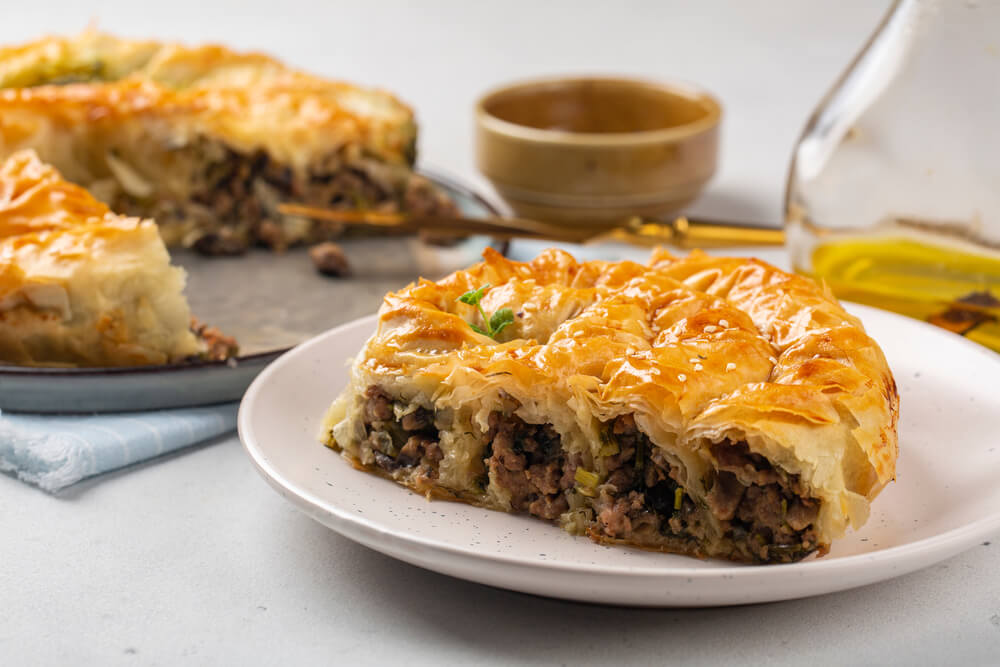 How to Make the Perfect Burek
28 Apr, 2022
Posted By : Content
---
If you've ever had burek, we know why you're here. Just like with everyone else, it was love at first bite. Having burek for the first time is an unforgettable experience, and it's no wonder you wish to try it once again. 
Balkan cuisine is full of hidden gems, and burek is one of them for many people. If you've never had it yet, it's time to give it a shot. 
Learning how to make burek doesn't have to be that difficult. We've collected all the necessary information about homemade phyllo dough, making the suitable meat mix, and setting the correct oven temperature. So, follow our instructions, and you don't have to worry about the result.
Or visit the BalkanFresh website and order a box of Djerdan burek!
Step 1 - Homemade Phyllo Dough
The first step in learning how to make burek is the preparation of the homemade phyllo dough. So, let's get to it.
To do this step correctly, you'll need:
-Working space
-Tablecloth
-Rolling pin, preferably thin
-Bag of flour (unopened)
Ingredients
-2 lbs flour
-Oil
-Salt
Instructions
Start by covering your working space with a clean tablecloth. This will protect it from getting dirty and possibly damaged.
Dust your hands with flour, then combine flour, two teaspoons of salt, and 2-3 tablespoons of oil in a mixing bowl. 
Add 2 cups of warm water and slowly work the flour into the dough. Then, it's time to work the dough just as if you were making bread or pizza. 
Use your hands until the mixture is ready, and keep adding water in small sips. In total, it should be about 3 cups (700 ml) of warm water.
Keep kneading for about ten minutes. Once the dough feels dry and sticks to your fingers, you can go on to the next step. 
Then, transfer the dough onto the tablecloth and cut it into five equal parts. Work on each one for a few more minutes, then shape them into balls and dab with oil.
Cover the dough balls with a kitchen towel and let them rest for about thirty minutes.
And of course, this would be no burek recipe without the meat! Balkan cuisine always likes incorporating meat into treats of all types, and burek is no different.
Meat-Potato Mixture Ingredients
-2 lbs Ground beef
-Five yellow potatoes
-Two onions
-Oil
-Salt
-Pepper
This time, we'll be showing you how to prepare a mixed meat and potato burek recipe, so start by peeling and dicing the potatoes. Do the same with onions.
Combine them with ground beef, add the remaining ingredients and mix! Then, leave the mixture aside for later.
Now it's time to roll the dough. Make sure it's really thin before you start adding the meat-potato mix.
You'll do this by dabbing the dough ball with oil, then rolling the pin in the middle of the circle. Then, lift the dough and spread it in every direction. 
Once the dough is prepared, you can start adding the fillings.
The Finishing Parts
Roll the thin dough into spiral rounds made by circling it around itself. Then, place the rounds into an oiled pan and dab each one with oil.
Preheat the oven to 460 degrees F. Then, place the pan inside and bake for about 20 minutes. You'll know the burek is done when it becomes golden on top.
Once you take your pitas out of the oven, sprinkle them with a mixture of water and butter. Let your Balkan cuisine miracle cool off for a few minutes, then enjoy the fantastic flavor.
Order Balkan Food in the States
Living in a country without a proper
Balkan food store
is no way to enjoy life. Luckily, the USA isn't that anymore. So, visit the BalkanFresh website and order your first batch of treats from all over the Balkan region.
Of course, you want to know how to make burek. Who doesn't? Read this blog and learn. Or, order Djerdan burek from the BalkanFresh website and prepare it in minutes.