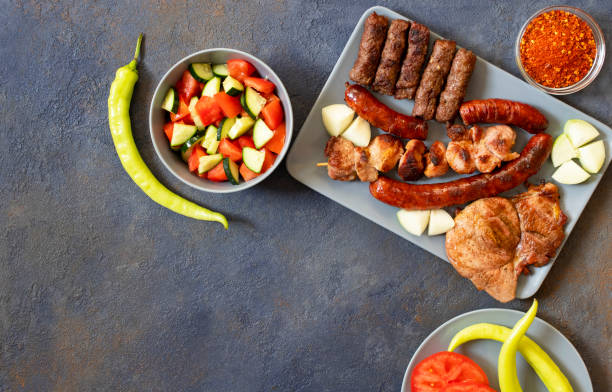 Top 5 Mouth-Watering Balkan Foods
19 Jan, 2022
Posted By : BalkanFresh
---
The world of Balkan cuisine can be a little intimidating at first, but once you've tried a few of the region's top dishes you'll be hooked. 
What is Balkan food?
Balkan food refers to cuisine found through the Balkan peninsula in eastern Europe. It draws inspiration from European and Western Asian food and most dishes are designed to be made at home. 
Overall, Balkan cuisine is bold and spicy. You'll find lots of pickled veggies, strong cheeses and tangy spices across the menu. 
Feel free to wash any dish down with a bit of rakija, the regional beverage of choice. 
Here are 5 Balkan dishes you need to know
It can be difficult to know where to start if you're just discovering Balkan cuisine for the first time. Here are five mouth-watering Balkan foods to get your first taste of the region. 
#1 Dolma
Who doesn't love food that's wrapped in even more food? Dolma is a popular Balkan dish, especially in Turkey, that features a hollowed-out vegetable stuffed with rice, meat, and other tasty morsels. 
Traditionally, dolma is made with grape leaves that are stuffed with rice and ground meat. Today you'll see lots of variations of the dish including several vegetarian friendly options.
#2 Burek
Satisfyingly savory Burek layered pies are always a great dish to start the day. Burek is typically made with meat, cheese, potatoes, and leafy vegetables that are wrapped in thin, flaky dough.
There are some strong opinions regarding the meat that goes into Burek. Some in the Balkans believe burek needs to be made with ground beef, while other chefs make burek with different fillings. 
#3 Ćevapi
Everywhere you turn in the Balkans there will be a different type of Ćevapi to try. This seasoned meat dish is a regional staple for its simplicity and deliciousness. 
Ćevapi is a type of hand-rolled sausage that can be made of beef, veal, mutton, or lamb. It's grilled over charcoal and served with flatbread, ajvar, kajmak, onions, cottage cheese, sour cream and red pepper. 
#4 Pljeskavica
Love hamburgers? Then you need to try the pljeskavica, also known as a Serbian hamburger. 
The popular and ultra-portable dish is made with a pork, beef or lamb patty that's served atop flatbread and garnished with ajvar, kajmak, onion and urnebes. 
It may take a few tries to nail the recipe at home. Pljeskavica requires just the right ratio of meat and fat to achieve its signature flavor. 
#5 Pršut
There's no way your mouth won't water as you watch your butcher slice some Pršut for your next meze (appetizer) platter. 
The Balkans is home to some of the best pork dishes in the world, but Pršut is a true labor of love. Pršut is cured ham that's pressed for several weeks to remove liquid before it's smoked. The meat is then dried for several months before it can be served.  
BalkanFresh: Your Source for Fresh Mediterranean Ingredients
Cooking can be tough enough for busy people, and so is finding time to go to the supermarket. With same-day hand delivery in New York City and shipping across the U.S, BalkanFresh is bringing the European market right to your doorstep. 
Visit our Website to explore our fine selection of European foods today.