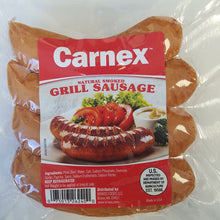 Carnex Grill Sausage (Beef & Pork) 900GR
$8.88
---
**NY, NJ, CT, MA UPS GROUND DELIVERY ONLY** All Other States PLEASE CHOOSE EXPEDITED SHIPPING. WE WILL NOT BE RESPONSIBLE FOR SPOILED PRODUCTS** A wonderful source of protein, made with the finest quality beef and pork, marinated with a special mix of spices. You can have them at any time of the day, will keep your energy to work all day long. You can also make different dishes with it but best served with grilled cheese and loaf. Order this yummy and juicy Carnex Grill Sausage today and enjoy with your friends and family. **NY, NJ, CT, MA UPS GROUND DELIVERY ONLY** All Other States PLEASE CHOOSE EXPEDITED SHIPPING. WE WILL NOT BE RESPONSIBLE FOR SPOILED PRODUCTS** Weight: 900g Premium quality pork and beef Great source of protein
---
---
Related Products
Dedo Kocka Sugar Cubes (Secer Kocka) 1000GR
$10.00
The best sugar cubes that you have ever dreamed of. Dedo Sugar Cubes or Secer Kocka is made in Balkan style. Order this package of sweetness to make the best tea or coffee. It is a real taste...
417746026738
Carnex Lean Cabbage Rolls (Posna Sarma) 400GR
Sold Out
**NY, NJ, CT, MA UPS GROUND DELIVERY ONLY** All Other States PLEASE CHOOSE EXPEDITED SHIPPING. WE WILL NOT BE RESPONSIBLE FOR SPOILED PRODUCTS** If you like traditional recipes, try Carnex Lean Cabbage...
417746026738