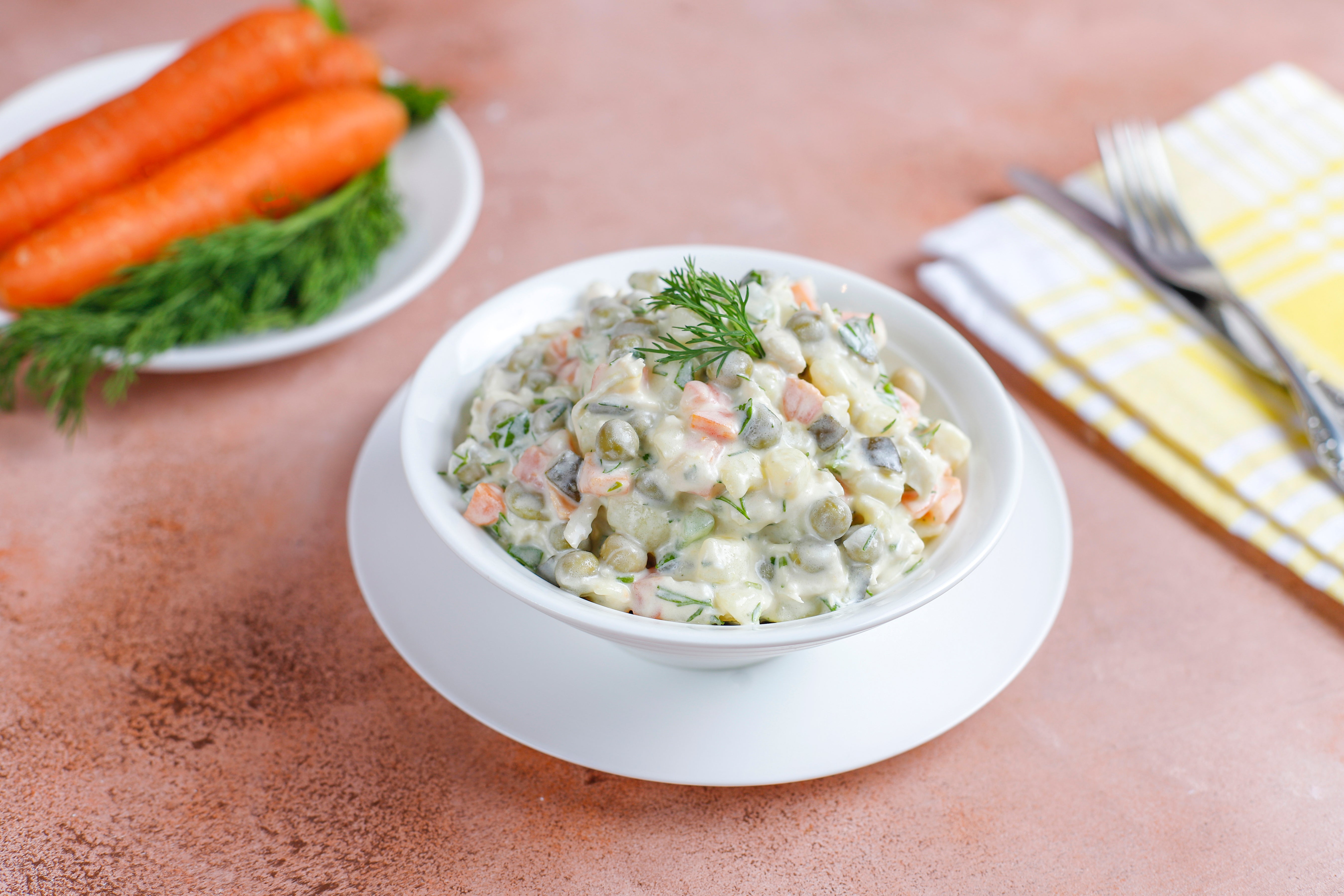 What You Need To Know About Making Russian Salad
30 Jun, 2023
Posted By : Liridon
---
Although this salad is a Russian salad and comes from Russia, it is very much a Balkan salad. You usually serve this salad on special occasions such as holidays, parties, and more. With Balkan products from our Eastern European grocery store, we will show you how to make your own Russian salad!
What is Russian salad?
You may also know this as Olivye or Olivier salad. It includes a variety of ingredients such as chicken, ham, pickled cucumbers, mayo, and more! In addition, this salad is so filling that you can even eat it on its own. Similar to egg salad. You can make sandwiches, for instance! 
However, don't be mistaken, this isn't your typical low-fat salad. Due to the mayo content, it is quite high in calories and fat. But of course, you can always make changes to make it more nutritious. Such as using Greek yogurt instead of mayo and increasing the proportion of vegetables.
The Russian salad is even easy to prepare in advance and kept in the fridge, so it's always ready. You can add additional ingredients and serve the salad chilled or at room temperature.
How to make it?
You can get the ingredients for this salad at BalkanFresh, our Eastern European grocery store. At BalkanFresh, we pride ourselves on offering traditional Eastern European products of high quality. 
Get ready as we show you how to make this Russian salad! We'll guide you through each step, from selecting fresh ingredients to creating the perfect dressing. Learn how to boil potatoes, carrots, and peas, chop eggs, pickles, and chicken, and whisk together a creamy dressing. After refrigerating, you'll have a chilled and flavorful Eastern European delight. 
Ingredients 
 - 3 medium boiled eggs, diced
- 1 cup frozen or
canned peas
, boiled, and drained
- 2 medium carrots, boiled, drained, & diced
- 3 small
potatoes
, boiled, drained, & diced 
- 5 to 6 cucumber
pickles
, diced
- 1 cup
chicken bologna
(or ham), diced
- 1 cup
mayonnaise
- A pinch of salt to taste
Directions
1. Start by peeling the carrots and potatoes, then boil them until they are tender but still firm enough. Let them cool completely and set them aside.
2. In the same water, cook the frozen peas until they are soft. Once cooked, remove them from the water and add them to the bowl with the potatoes and carrots to cool. If using canned peas, simply rinse them.
3. Boil the eggs until they are hard-boiled, then peel them and let them cool.
4. Once all the ingredients have cooled down, dice the carrots, eggs, pickles, potatoes, and bologna into uniform pieces. Place them in a large bowl and add mayonnaise. Season with salt to taste, and mix everything thoroughly until evenly coated.
5. Refrigerate the mixture for at least 2 hours, but it's even better if left overnight. Serve the Russian salad cold and enjoy.